Mildura is a beautiful regional town in Victoria, Australia, along the banks of the Murray River.
Known for its river lifestyle, festivals, vineyards and regional arts scene, Mildura is a vibrant town with a lot to see and do.
Dust storms at Mildura
Mildura has experienced many dust storms, as recently as this year. The above photo is a dust storm approaching the main street of Mildura in 1940 (visit Langtree Mall during the conference and see if you can find where this photo was taken).
For more information on the history of the area, including dust storm events and how people have dealt with the dust, visit the Mildura and District Historical Society at the Carnegie Centre (74 Deakin Avenue; open Monday, Wednesday and Saturday, 11am – 4pm).
Climate
Winter months (June-August) have mild days and cold nights. Warm clothing and an umbrella are advisable.
Getting There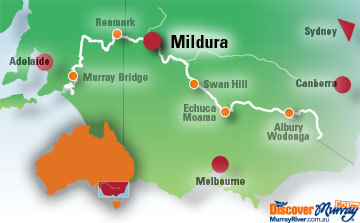 Distances to nearest capital cities
400km from Adelaide
550km from Melbourne
1025km from Sydney
You can fly direct to Mildura from either Sydney, Melbourne or Adelaide. Alternatively, hire a car and drive there from any of those capital cities. Mildura is also serviced by buses that connect to train lines…read more.
By aeroplane
Fly direct to Mildura airport from Sydney, Melbourne or Adelaide. Book your domestic flight through Quantas or Virgin Australia.  The flight will take between 1 – 5 hours, depending on where you depart from and the flight ticket options.
Once you've landed, Mildura Airport is 11km from the city centre, which takes about 10 minutes by car.
By train
There is no direct train service to Mildura from the nearby cities (Melbourne, Sydney or Adelaide); however the train will get you to Swan Hill or Bendigo, from where you can take a V-line bus to Mildura. This journey takes 7 hours. More information…
By bus
You can travel by bus from Melbourne, Adelaide or Sydney – which takes at least 5 hours. More information…
By car
Enjoy the scenery in the countryside at your own pace, and hire a car from the airport in Melbourne, Sydney, or Adelaide. Driving times vary – see this table on approximate distance and driving times from different cities.  More information…
Useful links for visitors
Discover Murray – http://www.murrayriver.com.au/mildura/
Mildura Visitor Centre – http://www.visitmildura.com.au/ask-a-vic.html
Mildura Official Visitor Guide  – http://www.visitmildura.com.au/assets/swf/MT_2015_OVG_Web.pdf
Mildura – http://www.visitmildura.com.au/index.html
Climate for Mildura – http://www.bom.gov.au/climate/averages/tables/cw_076031.shtml
Want to explore Australia?
Visiting Mildura for the conference is a great start to an Australian holiday. For more information on planning a trip around Australia, read more…
Visiting Australia – Visa information
The Australian Government requires international visitors to apply for an Australian Visa. See the Australian Government website for information on the different types of Visitor Visa available, and how you can apply…read more